The party has spread throughout the building, but concentrated again in two distinct areas. The Frenchies, along with the small Polish contingent and a few stray Germans such as Thorsten have taken over a large area near to the rear of the first floor. There are a large number of people. It looks like an impressive hive of productivity, which turned out to be the case.
The other major concentration of people is with ourselves at the other end. This area consists of the UK people who got here, plus Earx with his range of gloriously analogue self-built synths and various Germans including Paradox. The realtime article lives here too.
In the auditorium, a small hardworking team featuring Havoc and D-Force are getting everything ready for tonight's competitions. The restaurant, aka the school canteen out of the back is a popular location for mealtimes of course, and socialising with random people that you otherwise might not meet in the party itself. The reception area at the front is under the control of various Karsmakers family members, including our hero, and his lovely wife Ruth.
The afternoon melts away into early evening, with a small delay for the restaurant's evening meal. We're just awaiting the main event, due to start from 21.00hrs, the competitions!
The first attempt to take our places in the auditorium is rebuffed by Havoc, who is still setting things up. Everyone gathers in the main hall, the air of anticipation is so solid, it could be cut into regular brick sized formations and used as a building material. Eventually after a little while, Rich K. gestures for everyone to come in.
Seats are taken, and without too much waiting around, the music competitions kick off the evenings entertainment.
There is only one category and an easily managed number of entries. The competition does not outstay its welcome. Of particular note is a likely winning entry from gwEm and another SID sound entry from Wieczor on behalf of the Hemoroids who manages to coax sounds out of the poor old YM chip, that haven't been heard from it before.
But of course, it's the demos that we've come for.
First up is the sole Falcon entry. It's the mentioned in hushed whispers effort from Doug Little, aka 'DML'. It appears to be the end product of his most recent line of interesting experiments. The following showing happily proves that his time was well spent indeed! The overall look is almost like a PeeCee 'Textmode' demo in places, but running the very high end kind of 3D stuff that you need a PeeCee for! There's no artist credits, it's all procedural. In fact Doug has done some astoundingly clever realtime ray tracing. There is an excellent soundtrack from Excellence in Art to go with it.
Next up is an Atari STE entry running on the Falcon used for Doug's demo. This is a new demo from Cream. Cream, you mean the team made from Ultra, Agent T, and Tao, who dropped out of sight years ago? Well yes it is. Is it the mythically unreleased 'Heftig' demo then? Well no, but it is a new production made in the past few weeks. This turns out to be well up to the expected high standard of presentation for Cream. The effect, mostly shiny textured 3D models are a tribute of sorts to the Avena original 'Sonoluminescenz'. The tune from Tao certainly is. It's not Heftig, but it's a great comeback regardless.
(In conversation with ST Survivor later, it turns out that parts of Heftig may have been re-used for this one. It also turns out that the last full build of Heftig had a run-time of around twenty-five minutes! There will be another Cream demo in the not too distant future, as this one was felt to be put together in a hurry. Certainly you won't have to wait another 15 years!)
I'm not remembering in strict running order, but here's some more highlights I recalled.
There were a handful of space filler or nonsense entries from the likes of the Atari Boys, using old code from the early nineties.
There was a new Hemoroids demo, which turned out to be a very cut-down party version of the originally anticipated prod. After compo discussions revealed that more than half of it was missing and much of the rest not working correctly with the (rather enjoyable) SID music.
The Checkpoint demo was also not the production they had planned. It was shorter and more rough cut than usual, but there were a couple of real highlights, including one scene taken from a famous Lego-themed PeeCee demo.
The 'World according to Nordlicht' was a joint effort with several groups, and turned out to be a very well finished production, including the best ST voxel landscape screen, directly reminiscent of recent Amiga 500 efforts.
We also saw a welcome oldschool revival from distant and fondly recalled legends, Sync.
But it was Oxygene who swept the floor with their production called 'We were @'. Their sublime spanking of new and perfectly presented effects and fullscreen code provided yet another candidate for the ultimate STE demo. This seems to somehow transcend easy description and categorisation. Pleading for a hard disk file version post party starts right here!
Right at the end, Paradox revealed their lurking demo, 'SaboTage' to a waiting world. This was not finished so it was not entered into the competitions. It combines good storytelling with very nice STE effects and will be worth downloading, once it has been finished and released.
There is a short break, followed by the 'Commodore 128 Times Revisited' competition.
It is soon apparent that the winner here was going to be Dbug's mono monster on behalf of Defence Force, 'Time Slices'. The only other entry coming close, is the Fujiology intro from tSCc.
The rest of the competitions can be briefly described. With a very comprehensive but buggy 'Music Box' Javascript browser demo from the Hemoroids as the main attraction, and a couple of less memorable PeeCee entries.
A short and sweet graphics compo completes proceedings, so it is time for the jury to go away and deliberate their findings. As with the previous 10th anniversary STNICCC, there is no voting, but a jury panel made up of ex-Lost Boys to decide. At least this time we had proper competition big screen viewings, courtesy of Havoc and his assistants. Thank you Havoc, DForce and the rest.
The party then gathers in the repurposed school restaurant to await the jury's verdicts. Among the prizes are priceless demo scene artefacts, including Rob 'Maestro' Hubbard's old drum machine computer.
There are only a top three for each of the competitions, with no further placing or listing for anyone else further down.
Unsurprisingly, Oxygene wins, with Checkpoint grabbing second, and the Nordlicht invite cleaning up on third. gwEm grabs the top accolade for the music compo and Dbug hits the 128 KB top spot as expected.
It is definitely not 11.30 by the time the winners are announced. It is quite a long time after midnight before we can set off back to the hotel. There is a small lurking sense of unease from the situation left behind from the night before. We walk back through an almost deserted town centre, to the hotel. A cautious check of the room reveals that it is deserted and has been cleaned up and restored to hotel neatness default settings. Good, a peaceful night's rest will happen! There is a small mystery to be cleared up for the morning, as the key-card with instructions for the alternative room are still where I left them.
It is pretty fair to say that after events from the last 48 hours, my head was still gliding towards the pillow when I fell asleep!
Day Three..
A proper and restful nights sleep follows with no further drama's. Tonight's room mate will be ST Survivor, who will be needing a proper bed after sleeping or trying to sleep on the floor, hardcore, at the party place itself. I'm not expecting a repeat of the exciting Friday night.
Downstairs in reception, the mystery of the unused keycard is solved, as 'Mr Jones' managed to get another one for his room. Further confirmation of the current status of Mr Jones can be determined from the man himself, who is sitting downstairs in a post-drunken and somewhat downbeat state. He is trying to check out, today being his return home. He appears to be unhappy with the bill, which includes the 'extra' bottle of Jack Daniels at around 70-80 euro's! Having no wish to get involved in any further drama, I take a deep breath and get the hell out and back to the party place, before getting dragged in, again!
I don't breathe out again until I've reached the market square in the town centre!
Back at the party, we're meeting up with Daniel Hedberg over an early lunch or late breakfast, we find out that we nearly got a New Beat demo for STNICCC. However, work was started but another baby appeared, so further work was not possible. Still, there is early work there, and one day, we may see something.
More ghosts from a distant past are haunting, as we find 'Slimer' of DBA Mag keen to reintegrate with the Atari scene. One unexpected bonus gift is an article pack for the unreleased DBA Mag issue fifteen, unused before now. Some of this was written by myself back in the day. It looks like several of my bits may have been reused later on by me? However, there is sufficient remaining for a small DBA memorial sub- section in our 25th Anniversary Maggie.
The party is very peaceful, in a post competition final day stupor. People are leaving, have left, or are still hungover and sleeping.
The realtime article is a roaring success after the uncertain start. A factor in that success is the choice of platform, a live and working STacey being a real attraction for the scene veterans attending here. This machine was quite a rare item back in the day.
There was even a queue to use it at one stage, as various more or less famous scene personalities wished to record their final thoughts. The other plus point is that it has remained working throughout, has not chewed up the floppy disk inserted into it. As custodian of the realtime text, I've made regular back-ups and nothing's got chewed up and lost.
At time of starting this excerpt of report, there's around 40-odd kilobytes of text, with more waiting for when I get back to it! Indeed, by close of play we were scraping the underside of sixty kilobytes of textual goodness.
Bod has reappeared, submerged in a dense cloud of his own aftermath. He's going back via Schipol airport with some of the other visiting UK'ers.
The rest of today is concerned with farewells, Grazey and Cal are reacquainted with cycling gear for the journey back to Hull. Hands are shaken, people are definitely leaving. At around 7.00pm, there are only a few of us left.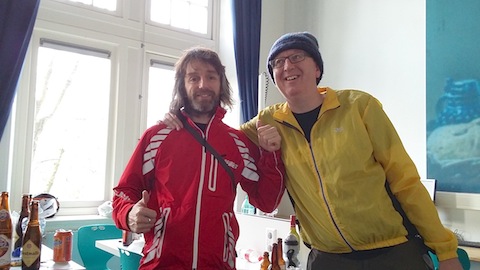 About to leave the building, a bit like Elvis!
The dying minutes of the party sees the realtime article closed down, our stuff packed and ready to go back to the hotel with Rich K's minibus. There is the little matter of helping Rich K and his wife Ruth to clear out the chairs from the auditorium. This is soon accomplished. ST Survivor and one or two other people are travelling back to the hotel too. Meanwhile, in our corner, Felice has been acquiring alarming piles of magazines 'for the museum'. There is a small mystery of how the stuff will fit into the car for the return journey.
We are repatriated back to the hotel, with some of our gear loaded into the car, parked underground. There is a small after-party gathering in Felice and Paula's room to fill the time between then and bedtime.
Happily, the room mate sharing for the last night turns out to be sane! There is no repeat of the exciting events of night two. Seb turns out to be an amicable and civilised companion. At this point, excitement is not needed.
Day Four..
The final morning is very gloomy and intensely wet. Seb and I get up, he parts ways in the hotel reception, as he will be leaving with Cooper for a prolonged drive back to France. Facing a long journey of our own, we have a final bout of the sumptuous hotel breakfast with a couple of other partygoers. It is still raining, which does not bode well for a planned shopping trip into town.
The mystery of what happened to Bod after he left the party deepens, as a new update comes to us from Tronic. Bod found some more booze en route to the airport, specifically a number of 20 cl bottles of Plantiac, which he drank. Once at the airport, he then walked off by himself to the wrong terminal building without a word to anyone. What will happen next?
Breakfast is completed. It remains only to check out, which turns out to be less painful than first feared. Partly due to some spending money being unspent and able to contribute to the hotel bill. Also the contributions I did get from people were helpful too. We're contemplating the mystery of packing all our goodies in Felice's car. With some clever optimisation, this is confined to the boot of said car.
Some shopping and dodging of rain showers in the old town of Gouda follows. A touristy cheese and souvenir shop gets our full attention. We don't really hang around and make our damp way back to the car, and the journey back commences around midday.
A fairly relaxed journey back to Calais commences, with occasional outbreaks of showery rain. This gets less showery, and more outright stormy, the nearer we get to the channel ports.
Our journey back included a stop at a very hardcore cash and carry booze warehouse. This was complete with lines of heavy lorries along with huddled figures of a mid-eastern persuasion eyeing up the chain link fence surrounding the lorry park. A French police 'CRS' van is in the car park, keeping the hordes back. Felice and Paula are more than satisfied with their purchases, but we get to feel the full effect of the storm straight off the channel whilst going back to the car. It threatens to tear us from the car park and scatter us over the flat northern French countryside.
It is very stormy and darkness is gathering when we reach the Cite Europe. This time around, there are not so many bargain hunting Brits, but there are lots of French folk trying to occupy the same parking space. We manage to negotiate the queues and get parked up. It turns out that French Xmas shopping hell is identical to the UK version. I am constantly reminded why online shopping has become so popular!
Nevertheless, further retail itches are scratched, to the satisfaction of all concerned.
In the heightened crowdedness, it even seems that getting a meal is problematic at first. Various restaurants seem to be operating a 'no new diners' policy, but in the end, the little restaurant near to the Carrefour store turned out to be very helpful. They even remembered us from the breakfast we had there on the journey out.
Whilst we are settling down to eat, a further 'Bod' update arrives. We learn that he was detained at Schipol Airport overnight due to the ahem, delicacy of his condition, but subsequently released back into the airport the following morning. A member of his family was trying to locate him at the airport. Will he get home, or is this a rerun of the 2004 movie, 'The Terminal', with Bod in the Tom Hanks role? (Spoiler alert:- He does get back home in the end!)
Eventually, all the space in the car has been filled, so it's back to the Channel Tunnel terminal. On arrival, this is very quiet indeed, possibly the quietest ever, but we're still waiting until 22.50hrs for a valid train. After exhausting the entertainment possibilities of the terminal, Felice and Paula decide to try their luck sneaking the car onto an earlier train due to the generally low numbers. It seems to be paying off, there's no-one is checking, or even bothered when we get on the train itself. We usefully chop more than an hour off our official arrival time.
The UK based final lap home is in the hands of 'Warp factor Felice'. This is appreciated, as we arrive back in Bar Hill at a sane time of around 23.15hrs.
After some feats of unloading, it's the final hour back home for me with an arrival of c.00.30hrs. Which is still manageable for a return to work that same morning.
And that is the end of STNICCC. Time to pick up Xmas from where I dropped it a week ago!
Further Thoughts on the party...
I'm not sure where to start with this one. STNICCC is somewhat outside of the normal ecosystem of the day to day Atari scene, and the events that flow from this. There have only been three of these so far, at very wide intervals apart from each other. Each of these parties has had a very different feeling or mood from the others.
The 1990 party, I can only speculate about, as I did not attend it. But from reading various reports and the realtime article, and watching the DVD commemoration, it felt like young guns were really going for it, the majority of attendees being defiantly teenaged, or not so long away from those years. At that time, the scene was still young and exciting, with limitless possibilities ahead of it too.
The 10th anniversary party in 2000, I did attend. Due to a generous venue donor and corporate sponsors, this was a lavishly provisioned event. It featured a mixture of older reuniting sceners, along with a healthy dollop of more recently active people. In some ways, this party pointed to a closure of sorts, with the final issue of Maggie being released there, and a bit of a feeling in some places that the best of the Atari scene was in the past.
The current 25th anniversary STNICCC had been so far in the future, it seemed like it was never coming, until it was there. If we were considering this anniversary from the perspective of 1990 or even 2000, then we would expect a bunch of middle aged blokes to turn up for a quiet drink and chat of times and glories past, but with no new productions, having put coding and other creative activities behind them as 'mature' folk wouldn't be doing this sort of thing anymore.
How gratifyingly wrong we would have been!
The ton of releases speak for themselves. Even better, apart from people like Checkpoint, who are a positive demo creating factory, most of these were from people not really associated with the current 'active' scene.
We had lots of welcome returns, of Cream, Oxygene, DBug, Sync, and more. Doug Little was inspired to throw his demo creating hat into this ring as well. Incidentally, STNICCC managed to mostly tap into a well of talent that was not already being used for other regular Atari parties such as Sommerhack or Sillyventure. Indications are that at least some of these persuaded to return are motivated to continue. I'd like to see a completed 'Heftig' released at last!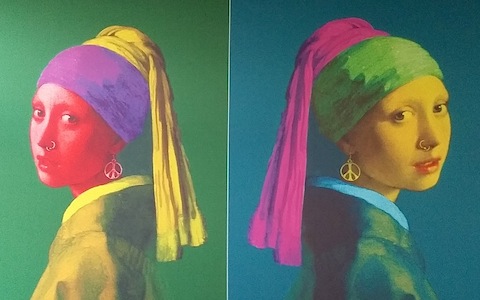 An interesting mural on a classroom wall.
Richard Karsmakers employer, De GSG Leo Vroman, provided another impressive and atmospheric venue. The facilities and catering were top notch and very welcome. The facilities provided by our off-site sleeping place, the Best Western Hotel were somewhat above adequate, and Gouda is a pretty and manageable place to explore, even at this time of year. (Their Xmas decorations by night are definitely worth seeing.)
It was great to re-meet with a bunch of familiar and barely recalled from long ago faces. Mike Schussler looks like he's thrived and deserving of everything he's enjoyed, It was great to meet his family, including his offspring, who shows every sign of following in his fathers footsteps. MUG UK was contentedly himself. Steve 'Tat' Tattersall looks far more relaxed than when I last saw him. There were a host of more familiar faces such as Tronic, Havoc, Grazey and Cal, and yes, even Rich K. Who has turned up at the odd Outline Party.
The surprise arrival was Sietse 'Slimer' Postma, who turned up with a bunch of old Diskbusters material and a renewed interest in the Atari scene. I also got talking to Daniel of New Beat properly for the first time. Baggio was there too, a long missing ST Survivor, Chuck of Dune and a bunch of Frenchies. There were too many people to name individually, but you all made this party a blast.
The odd misadventure, described earlier, was managed, and there was no lasting damage to me. So I guess travel and Bod don't mix too well? Hope he turns things around next year.
So, after writing up this party, where is there left for the scene to go? Can anyone going forward beat dis?
STNICCC itself hasn't gone away with this 25th anniversary edition being completed. A divine flash came to Rich K, the day after. We're now obliged to keep ourselves alive for another seventeen years for the 42nd birthday. Maybe by that time, someone has coded a 'Deep Thought' emulator for a stock Atari Falcon? Better still, other smaller scale events may be hosted before then. I'd certainly welcome the chance to revisit the capital city of cheese!
STNICCC, it was your 25th birthday, but you haven't aged a day in all that time!
CiH, for Maggie 25th Anniversary issue - Dec 2015 - Jan 2016.